Hi everyone,
I've been on a card making frenzy of late.
I whipped up a card and quite like the way that it turned out - so I grabbed a different 6x6 paper pad and played with some papers and liked the way they turned out [yep, more than one] - so I did it again - as you do.
Let me share.
a close up
and again using a different Prima patterned paper pad
a closer look
different papers but from the same paper pad
another close up
And then, similar, but once again a little different.
What happens when you see a card and you think to yourself, ooh, I like that!
What's the point though, I can't make anything like that - I don't have all that 'flash' stuff.
Have another look at that card and break it down a little more.
When you look at this card, it's cardstock, it's a rectangle and squares, a flower, 
some leaves, muslin, some cotton and gesso and a sentiment.
Try it this way.
Take a piece of patterned paper and cut it 6" x 4".
Cut a smaller piece of patterned paper 5" x 5".
Cut a smaller piece of patterned paper 2 1/4" x 1 3/4".
Ink around all the edges of your patterned paper.
I've used a black soot ink pad.
Cut out two pieces of corrugated card [packaging box] 
and adhere to the back of your two smaller pieces of patterned paper.
Cut a piece of white cardstock 6 1/4" by 8 1/2" and score in half.
Adhere your largest piece of patterned paper - yes, you will see a small margin left all around the edge, it's a little smaller than your cardstock base card.
If you have a piece of muslin [also known as cheesecloth around the world] - cut a piece and stretch it out with your fingers,
pull it apart a little [be gentle] and adhere to the bottom left hand side of your patterned paper.
Adhere your smaller piece of patterned paper so that the bottom edge sits below, drop it down a little.
Tuck under a couple of leaves, add a little twine if you have it, or perhaps a little cotton.
Add your sentiment - think words from your packaging, stamp a sentiment, stamp using alphas
and cut out individual letters, similar to self adhesive alphas.
Type up a strip on your computer and print it out, ink the edges and adhere.
and a close up
Some crafters don't like using gesso and that's okay, it's an individual thing, but to finish this particular card
I have grabbed the tub of gesso and a paintbrush and played.
and another close up
and one more
So next time you see a card or a tag that you like and think that you 
can't do anything like that - you can, honest.
Happy creating everyone.
Until next time,
Michelle [aka Mrs Frizz]
From the Flying Unicorn store :
Prima Salvage District 6x6 paper pad
Prima Butterfly Collection 6x6 paper pad
Prima metal die [currently out of stock]
Muslin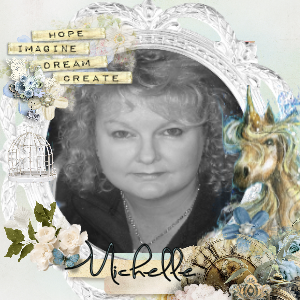 Visit the Flying Unicorn Store! www.flyingunicornstore.com