I am popping in today to show you 2 cards I created with the BEAUTIFUL Pion Design collection "My Precious Daughter" which I designed for The Flying Unicorn and can be found at the store HERE.
I have also provided links to a number of other items that are available at The Flying Unicorn which I used on these cards . Please click on the links below. 
Materials List for both cards
Paper: Pion Design "My Precious Daughter" collection
Chipboard: 13arts Ornament Mat Big 
Colour: 13arts Chalk Mist - Lilac 
Stencil: Prima Elementals 6"x10" stencil - Netting
Texture: Wendy Vecchi White Embossing Paste
Texture: Wendy Vecchi Crackled Texture Paste
Gesso: 13arts White Gesso 
Clock: Prima Resin White Icon - White Clocks
Flowers: Prima - London Majesty
Chioboard Heart: Kaisercraft
Stamp: Sentiments stamps from Dovercraft 
That is all for today! Hope you are having a great one!
Bye for now :)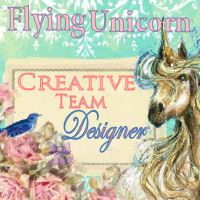 Visit the Flying Unicorn Store! www.flyingunicornstore.com